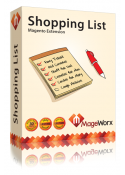 Psychological studies say that the use of shopping lists clearly impact shopping behavior. And it's definitely true. It significantly reduces average expenditure for a customer and for you it's a great chance to have regular customers.
Make the process of keeping track of items which are purchased routinely easier for your customers. Let your customers to locate items in shopping lists and purchase them regularly in easy and smoothly way. Magento Shopping Lists by MageWorx allows to create shopping lists, to manage products in shopping lists (add / remove), to move products between different shopping lists.
Save the time of your customers and they will get back to you again and again!
Please find more information on the Shopping List Magento Extension page.