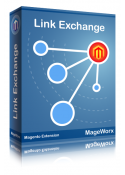 Increase traffic of your website through reciprocal link advertising on partner websites and improve Search Engine Rank! When you trade links, there will be an increase in users who will clicking through your website simply because there will be more links on the Internet pointing towards your site. By right, a link exchange was and still is one of the best ways of ranking your site or page higher on the search engines.
MageWorx has developed for you our first-class Link Exchange Directory Magento Extensionwhich allows you exchanging links between Magento store owners and 3rd party websites.
How can this extension be useful for you?
Link Exchange is one of the best SEO Magento Extensions. It is very flexible for necessary link exchange rules. It has lots of settings that make it easy adaptive for every needs. You can configure all necessary features such as assigning static blocks for links exchange rules, making reciprocal links required condition or not (it's even possible to schedule automatic check for reciprocal links. It saves your time during this activity), choosing email templates for notifications (customers/admin), allowing link rates on the front-end and even specify the keywords for automatic ban of spam links.
Before starting your link exchange campaign, you should setup appropriate settings in the extension and create link categories, which will be available for choosing in the front-end when adding the links. It can be done in CMS – Link Exchange – Manage Categories page. You can even specify meta tags for category page to make it SEO-friendly.
Once these things are done, we recommend you to write the conditions of your link exchange campaign in a static block and assign it to the "Link Exchange Rules" setting. These rules will be visible on the front-end at the page for submitting the links. It will avoid you from unnecessary questions from other webmasters.
Submitting the link, the webmaster can view Link Exchange rules, which you added in the static block. Below he should add the link itself and contact information for completing the submission. You can enable reCaptcha service if necessary. It's a quite easy with our extension. This integration will help you to filter spam and know whether the link is submitted by a real person or just a computer.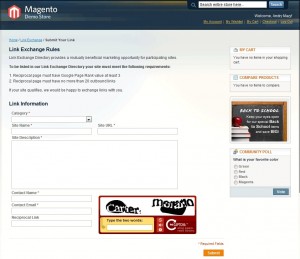 In addition, you have the possibility to specify keywords for automatically ban of the links, which helps to avoid unwanted links and spam. The admin, for his part, has a possibility to submit unlimited number of links.
All added links comes to the back-end. The admin can filter all of them and to choose either to approve them or to cancel:

Our extension also allows your site visitors to rate submitted links (if this option is enabled by admin). Visitor can also search for necessary sites using built-in search functionality.
Permalinks options, which points to a specific site entry, is available for every approved links.

Thus, Link Exchange extension brings to your Magento store an old, trusted and effective way to rank your site better. If you do it right, you will be surprised, how effective it can be.
After running this extension you feel really great support. It'll bring you:
highly targeted readership (for link exchanges where all members of the exchange have similar web sites);
increasing the "link popularity" of a site and search engine ranking;
direct traffic from the links;
search engine optimization;
And more and more customers!
Gain popularity and prosperity on the web with Link Exchange Directory Magento Extension!