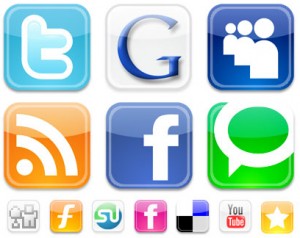 Keeping your online business up to date and relevant new strategies are needed to adapt to trends in social networking. It is proved that's the most effective method to make your Magento store more socialized. When a customer buys something from you, you would hope that they tell their friends about your product when they ask about it. Internet users are increasingly relying on their trusted personal relationships to dictate what they should read, play, see, watch, and search for, and, which is more important for us, buy online.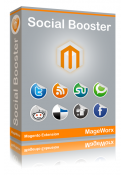 Surely, you find attractive to add the most effective in economic terms social services for informing, promoting and rewarding your customers. How can you make this? The best way to track social activity on your site. Now you can monitor visitor statistics for a particular social service independently and on its basis to identify more effective one. We've developed Social Booster Extension for you which assists your customers to share your brands via the most popular social services such as Facebook, Twitter, Google +1, Google Buzz, Digg, StumbleUpon, MySpace etc. (more then 70!)
With Social Booster Extension you can:
assess the amount of pages that can be shared via social networks;
count the number of clicks of all pages which have been added to the certain social service;
get detailed statistics of each shared page (quantity of social services and how many times this page have been added to all social services);
View how it looks like (example of general statistic by social service):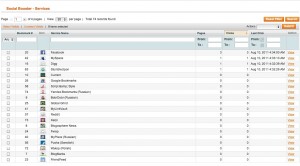 Сonsidering, you can keep statistics at any angle that you want! All this allows you to find the most effective social service for your store, the site, which most of your customers use. Having this information, you can run more target promotion campaign by adapting and launching them in particular social community. You can also estimate the popularity of your store in social community in general.
Finally, you always can find every your mention in social sites, follow these people, build reliable community around your brand.
Analyse the results and adapt the approach to improve your social business strategy with Social Booster Magento Extension.
Learn more about this amazing solution at Social Booster Extension page.
Click on Magento extensions for other MageWorx support.