Most owners might have faced the fact that it's not possible to invoice and ship several orders at once. They have to make that separately for each order. Now you'll have an opportunity to manage these actions with many orders and right from the orders grid! All that you need is just to use Extended Orders Magento Extension that has a lot of useful and awesome features including shipping and invoicing in bulk.
 You should just select the orders you want to ship or/and invoice and choose one of options in "Actions" drop-down. The system ships and creates invoices automatically for any order you need. It also sends emails to customers if necessary: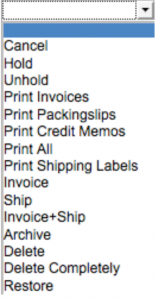 Moreover, it's possible to use both features ("Invoice+Ship") at a time.
Extended Orders Magento Extension enables to ship or/and invoice as many orders as you need automatically. It will definitely speed up your work with order managements!