Spring is right around the corner – you can feel it in the air! To help you find a warmer state of mind until it finally arrives, we are announcing a 3-day March Sale!
The sale starts today, on Tuesday, March 10nd at 8.00am EST and runs until Friday, March 13th, 01.00 am EST.
You can SAVE UP TO 30% on the best-in-class Magento curency extensions designed for:
managing multi-currency, multi-language, multi-site stores
building rock-solid customer loyalty
creating and managing a wide range of product additional fees and extra services
The features the analogue extensions can't boast of are now up to 30% CHEAPER!
Here's what we have got for you: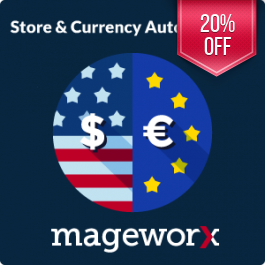 The extension allows you to easily conquer new markets with multi-language, multi-currency, multi-site and local tax compliance capabilities.
Automatic Store & Currency switching based on visitors' location
Flexible functionality to manage store-country, country-currency relations
Smart Tax Switcher
Built-in functionality to test redirects right from the back-end
Increase the average order value to generate extra profit with this top-notch Magento tool.
Cart, payment and shipping fees — all in one extension
Predefined positions to show the fees on the cart page
Flexible functionality to create fees based on any product and cart attributes
The ability to create payment/ shipping method and extra fees dependency
Extra fees & payment methods
A detailed report on all the collected fees
$129 ->  $ 99
25%DISCOUNT CODE – MARCHSALE30


Enhance customer loyalty manifold – reward both new and regular shoppers with internal credits to further use them for purchasing with your store.
A wide spectrum of ways to reward customers for purchasing with you
The ability to save profit by paying refunds with internal credits
Recharge Codes to refill Credit Balance
A detailed report on any internal credits activities
SOAP API support
$150 ->  $ 99
30% DISCOUNT CODE – MARCHSALE50


Also, you may check a wide range of other great solutions for your Magento store here.