We, at MageWorx, are continuously improving the functionality of SEO Suite Ultimate, adjusting it to the latest changes in the search engine environment.
And today, we are proud to announce the release of a new 4.0 version of the extension.
A range of new, unique features and innovative modifications make SEO Suite Ultimate an unrivaled, best-in-class SEO solution for Magento stores.
Let's have a closer look at what the new version offers.
Fully-Revamped Magento SEO Templates
We have completely revised the templates functionality, made it more intuitive, flexible and user-friendly.
First, we have separated product and category templates. From now on, you can create them independently for individual products, attribute sets, all products, all categories and chosen category trees.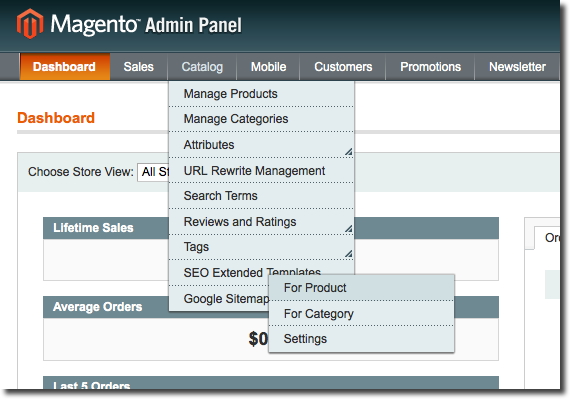 Also, we have abolished the old predefined SEO templates.
That means that you have got the ability to create a new template using any conditions, and applying it to any product(-s) of your choice.
This approach lets you manage templates for various product items and conditions in a more flexible way. Here is what the updated template grid now looks like:

(click on the image to unfold it)
As you see, the new SEO Suite Ultimate lets you conveniently overview all template info right in the grid. So you can track:
the date and time of the last template start/ completion
the date of the last modification
the exact time when your template was started
and how long it took to apply it.
Product and Category Templates by Store Views
With the updated version of our extension you can separately create product/ category templates for each Store View.
That means you will be able to add different templates for each language.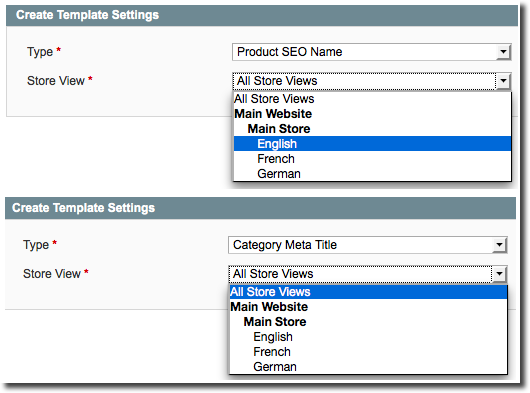 Also, the system will analyze all your templates and give a higher priority to those created for local Store Views.
For example, a new template created for the English Store, will be used instead of the one created for the same products/categories for All Store Views.
Also, the new version of the extension won't allow you to create different templates for the same products/categories from the identical Store Views.
For instance, in case you create a template for all 'Cameras' in your English store, you won't be able to choose 'Cameras' when creating another template for this Store View. Thus, the extension will save you from messing up your meta data.
Product Templates by Product Attribute Set
With the updated version you can create different templates for each set of attributes.  Thus, you can separately generate templates for all types of products.
Also, having the ability to use attributes specific to each attribute set, you can quickly set up all product types.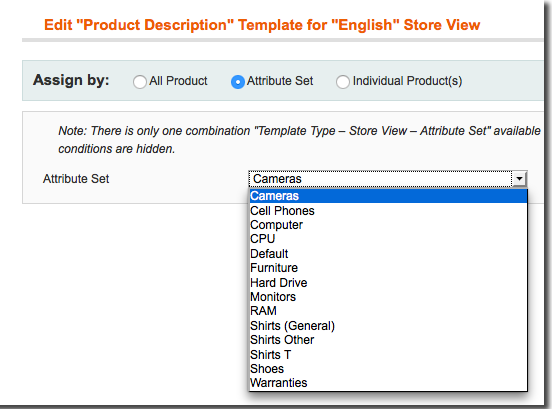 Manual Selection of Products to Include into a Template
The new version also brings you a very cool feature — it allows you to manually select products for each template.
The feature comes really useful when you need to apply a template to some specific products/ products from a specific category (you can filter products by the assigned categories):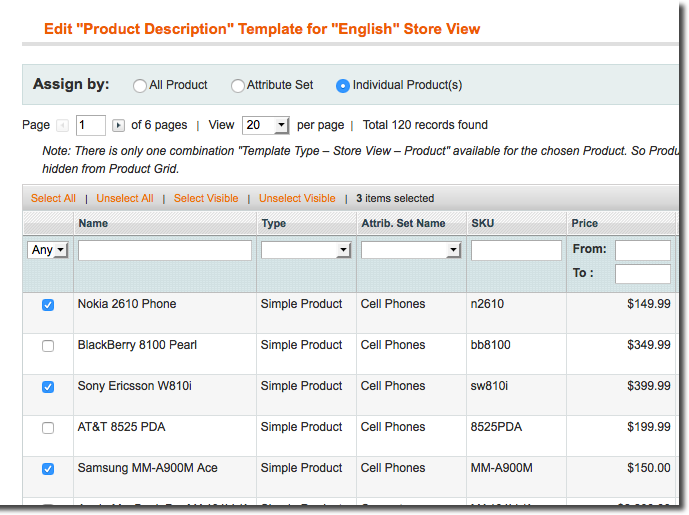 The system will hide all the products that already have the assigned templates of the same type for the same Store View.
Manual Selection of Categories to Include into Template
Now, you can manually choose categories to apply a template to (and note, that you still can apply a template to all your categories if necessary).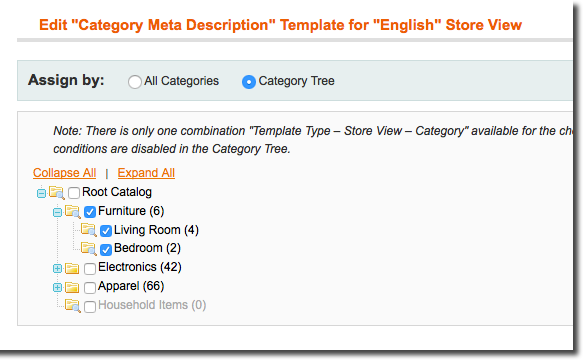 Applying A Rule to a Product Template
In the previous version it was possible to apply templates to all empty fields / all products. However, it could only be configured for all your templates at once.
With the new version you can configure this for each template separately:

Applying Templates by Magento Cron
One of the most requested features we received was the ability to apply templates using Magento Сron.
The new SEO Suite Ultimate lets users automatically apply templates to new products/ categories. The feature can be enabled for each template separately.
If enabled, the templates will be applied once a day at night (at 1 a.m.).
Bulk Template Actions
Now, you can bulk-apply your SEO templates. Just select templates you want to apply and initiate the corresponding mass-action.

(click on the image to unfold it)
Testing Templates Before Applying
SEO Suite Ultimate v 4.0 is equipped with the unique feature — it lets you test any template before actually it gets applied to 'live' products.
Just click the 'Test Apply' link and the system will generate a CSV. The file will show all the affected products and display their current and new meta tags.
Error Email Notifications
In addition, you will be able to set up email notifications. They will be sent if any errors occur during the process of applying a template.
It can be really handy if you configure templates by cron and need to be informed about the progress.

Limiting the Length of Meta Title and Meta Description
It's really important to know the exact length of generated meta tags. If they exceed the set limit, it can negatively affect your pages.
The updated version of our SEO extension lets you take a full control over this with the meta crop settings. The feature will let you cut meta tags when they exceed the specified number of characters.

* * * * *
This set of truly unique SEO template features make SEO Suite Ultimate a second-to-none Magento SEO extension on the market.
Fancy the new functionality?