With things constantly changing in the industry, we keep improving our Magento extensions to make sure they keep up with all the latest trends.
To help you attract more seasonal sales, we're opening this summer with a big updated of Gift Cards Magento Extension!
Let's have a closer look at what the new 4.0 version offers:
Part Payment with Gift Cards
From now on, customers will be able to specify the amount to use from a specific Gift Card. So they can use a part of the Gift Cart amount.
To make a payment, a customer needs to enter the amount from the gift card he wants to apply for a specific order.
* Note that if the amount isn't entered, the whole sum will be written off from the gift card.
Full Back-End Control
The new version of Gift Card Magento extension allows attaching a Gift Card to a specific website while making a purchase. On top of that, one can set an expiration timespan (in days).
Manage Gift Cards with API
Now you can create/delete, manage, view Gift Card(-s) information offline. There's no need to log into the Admin Panel.
Gift Cards Export
Export Gift Cards into .csv and .xml files, configuring the date and card type/status. To do that, follow this path:
Customers-> Gift Cards-> Export Gift Cards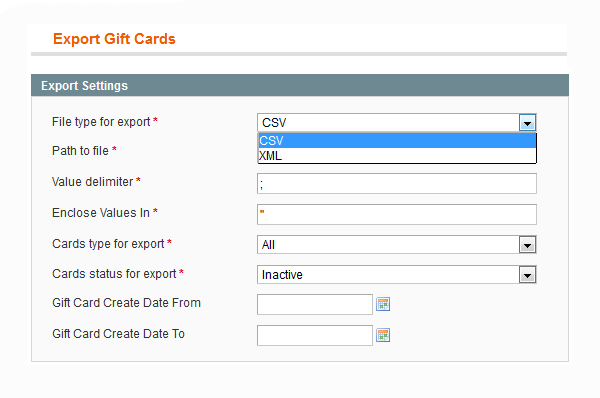 Ready to give the new version of Gift Cards Magento Extension a try?